Summerville Plants produces patio plants in a sustainable, environmentally friendly manner. The company strives for the lowest possible environmental impact.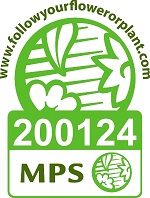 The energy and resource use is registered with M.P.S.  For years, Summerville Plants has been scoring the M.P.S. 'A' qualification.
Since 2018 we also produce by the restrictions of M.P.S Product Proof. With this we show with complete transparency to our customers whitch active substances are used. The registration can be checked with periodic leaf analyses.
Since 2020 we also achieved M.P.S. GAP and M.P.S. GRASP certification, which means that Summerville Plants complies with regulations and legislation regarding labor and business processes.